Review Sherlock : App Store and Mac App Store Analysis

Review Sherlock is your software to analyze all the reviews posted on the App Store and the Mac App Store. Review Sherlock retrieves all the reviews of all countries at once. Review Sherlock has a clear and precise interface containing all the necessary elements to analyze and understand the reviews and scores for your application.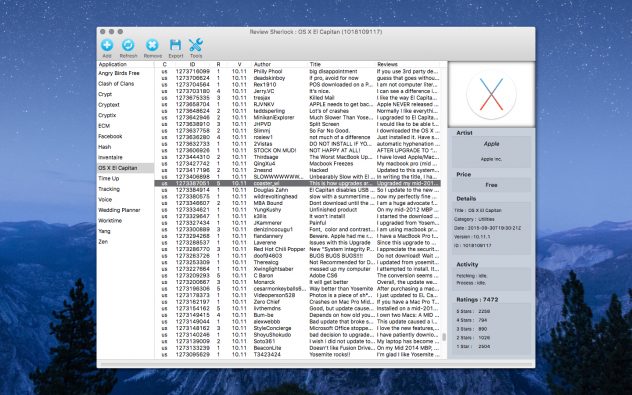 Enter your software in Review Sherlock, then retrieve all the reviews.
Review Sherlock will examine all the reviews for your application. You can then thanks to Review Sherlock, get a pie chart or stick notes, study a specific review, export a review, all the reviews or a list of all authors for a given application.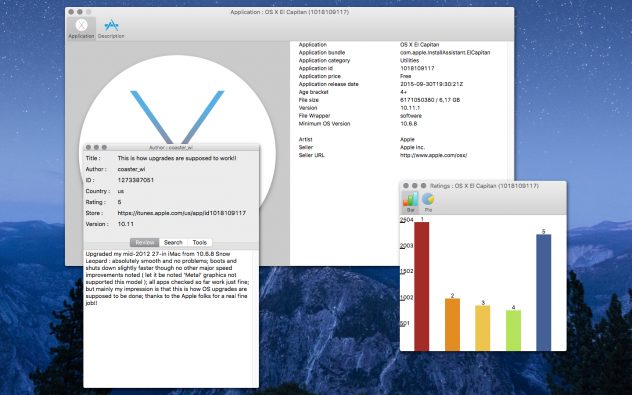 Key Features:
– Unlimited number of applications.
– Unlimited number of extracted reviews.
Application :
– Export the application.
– Remove all applications.
– Remove one application.
– Update the application.
Reviews :
– Export the reviews.
– Tools to help deleting a review.
– Update the reviews.
Users :
– Export the author's list.
– Export the user's review.
– Tools to find an user.
Tools :
– Choice of the extraction method. (JSON or XML)
– Diagrams to analyze and understand the ratings.
– Full screen mode support.
– HTTP 1.0 or HTTP 1.1 suport.
– HTTP Proxy support.
– Logs to analyze the connection and data extraction.
– Logs cleaning.
– Notifications support.
– Parameters to optimize extraction.
– Preferences cleaning.


Download Review Sherlock


Buy Review Sherlock